Stunning New Charge in Watergate Scandal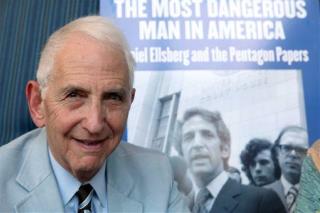 Then-President Nixon's associates planned to attack antiwar protesters and whistleblower Daniel Ellsberg, NBC News reports. A never-published memo obtained by the network reveals that Watergate prosecutors had proof that Nixon operatives were targeting "long-haired demonstrators" at a 1972 Capitol rally and "in particular" bold-faced war opponents like Ellsberg. The ex-Pentagon official had accused the White House of sending CIA "assets" from Cuba to "incapacitate" him. Nixon aides denied the plot, but a 1975 memo by Watergate special prosecutor Nick Akerman backs up
Ellsberg's claims. "They were unable to reach him for some reason," Akerman tells MSNBC. Prosecutors believed White House counsel Charles Colson was behind the plot but they didn't have enough proof to indict him.
Colson, who denied involvement, later pleaded guilty to obstruction of justice for stealing Ellsberg's medical files in an effort to discredit him. Roger Stone, who in 1972 was a young GOP organizer of counter-demonstrators, tells MSNBC that Henry Kissinger fueled Nixon's contempt of Ellsberg, calling him a "pervert" on Watergate tapes. Akerman disputed that, saying Ellsberg's leak of the Pentagon Papers was what "set him [Nixon] off." But the 1975 memo indicates Nixon was briefed on the scheme. Aides John Ehrlichman and Bob Haldeman worried the story, if revealed, "might someday hurt" Nixon. When Ehrlichman suggested "bringing the Cubans up to rough-up the demonstrators," Nixon was caught on the Watergate tapes responding, "Campaign activities—I got that." (Stone has been called President Trump's "dirty trickster.")

New Hampshire Today
Want to know more about New Hampshire Today? Get their official bio, social pages & articles on News Radio 610!
Read more